Fastest
It is always very difficult to determine how fast an animal ran when you are just looking at a pile of old bones.  Especially when those bones are around 200 million years old. But scientists have been making great advances thanks to sharp thinking, computer animation and a whole lot more fossil discoveries.  So who was the fastest?  Well, the jury is still out on this but one of the top contenders are Struthiomimus and Gallimimus, ornithomimosaurs with speeds up to 60 kph (37 mph).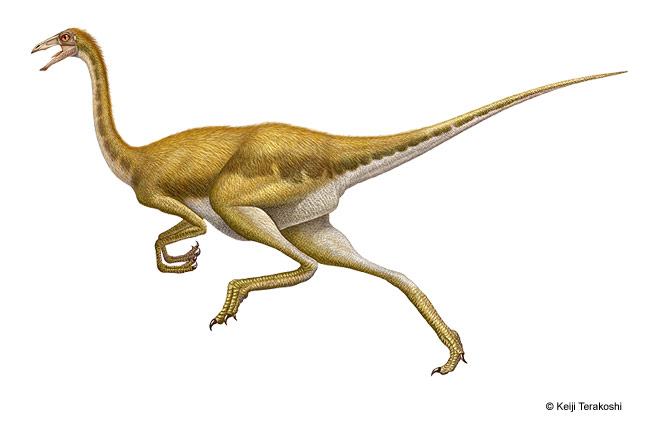 Velociraptor  was not the fastest in spite of her name, nor was Deinonychus or Utahraptor – they were ambush predators rather than pursuit predators.  Tyrannosaurus Rex?  Some say he could knock out a top speed of 40 kph  (25 Mph) while other scientists say he was a slow, lumbering scavenger.  They say high speeds would have been dangerous for T Rex as a fall would  have broken some serious bones.  But that is a load of nonsense – T rex could crank it out when he had to, much like any other living creature that roams the Earth today.
Heaviest
This one has to be a sauropod – you know, those four legged heavy critters with long neck and tail.  But which one is the winner? Some palaeontologists, when they dig up a biggie give it name that describes its size  such as Supersaurus and Seismosaurus (seismic means earthquake, so they clearly imagined the ground shaking as this beast walked around its Mesozoic world).  But which one is the heaviest?  Well, the records indicate that Argentinosaurus is the winner, weighing in at 50 to 96 tonnes.
But wait, another whopper was found in Argentina in 2014 which might top Argentinosaurus off the top rung.  The discovery is so new that the animal has not even been given a name.  Estimates are that it weighed in at 77 tonnes, about the same weight as 14 African elephants.  But as it stands, the heaviest dinosaur is believed to be Argentinosaurus.
By the way, Seismosaurus has been renamed Diplodocus hallorum so that earthquake thing has come to an end.
Longest
This is related to the heaviest – once again it has to be a sauropod – you know those guys – four strong legs, a long neck and a long tail.  So who is it going to be – Seismosaurus, Supersaurus or Argentinosaurus?  Yes, you guessed it – it is Argentinosaurus with an estimated length of 30 to 35 metres.
As an aside the largest animal to have ever lived Planet Earth is the Blue Whale, and these marvellous creatures swim in the oceans today.  And we nearly hunted them to extinction thanks to our stupidity.
Tallest
This one is a bit debateable.  If you take its height at the shoulder the winner has to be Argentinosaurus, but if you take into account the longest neck that can reach up into the branches of tall trees, then once again it has to be a sauropod, and that sauropod's name is Sauroposeidon.  Fossil remains from Oklahoma were discovered in 1994 but no one realised how significant they were until 1999, and then the world went mad.  So although not the largest, it is certainly the tallest.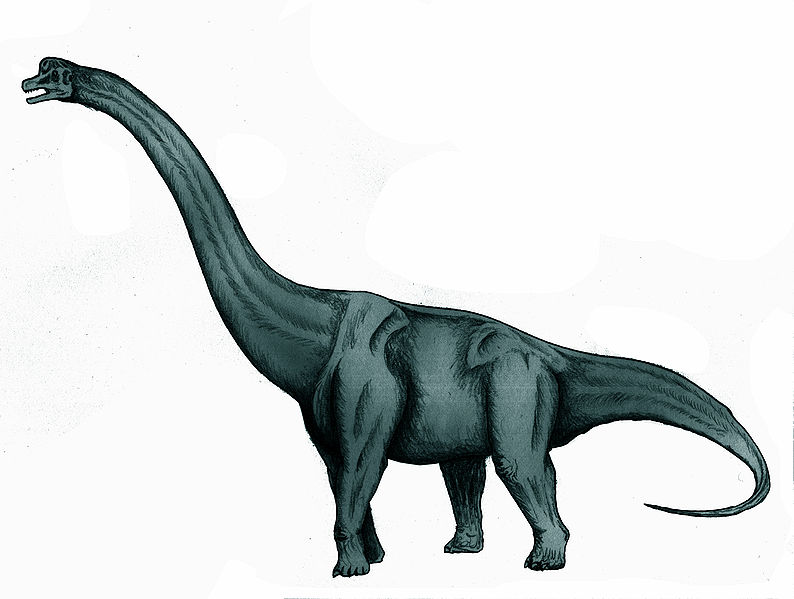 Oldest
The oldest dinosaur ever found – that is from the earliest geological time scale – is Eoraptor which lived around 231 to 228 million years ago during the Late Triassic.  The fossil comes from what is now northwestern Argentina.  It was small, lightly built and is known from a number of well-preserved skeletons.
For the first fossil skeleton ever officially found this is Megalosaurus as found by Sir William Buckland in 1824 in Oxfordshire, England.  That fossil is now housed in the Oxford University Museum of Natural History.
Smallest
Dinosaur fossils the size of chickens have been found.  Imagine that – dinosaurs as large as football fields sharing their world with ones the size of chickens.  But I guess we have similar things happening here in our modern world – elephants sharing the savannah with guinea fowl and rodents.  So which one was the smallest?  Well, the winner of the midget awards is Parvicursor, meaning 'small runner' – a tiny maniraptoran dinosaur which as its name suggests had long, slender legs built for speed.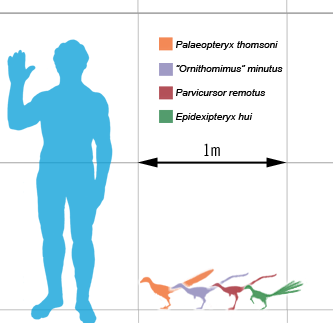 Here's the bit you've been waiting for – it was only 39 cm (15 in) from nose to tail and weighed in at 160 grams (5.7 ounces).  This little guy was first dug up in Mongolia and lived around 72 million years ago.  The previous record holder was Compsognathus ("pretty jaw") was 1 m (3 ft) long and weighed about 2.5 kg (6.5 lb). However she has now been knocked off her perch by our newcomer Parvicursor.
Most Famous
This is debateable, but it has to be Tyrannosaurus rex.  He has been the star of dozens of books, movies and shows, and every museum worth its salt has to have a T rex or at least a moulded skull of a T rex. Jurassic Park introduced us to a grumpy troublesome specimen who trashed the park, and then went on to save a new generation in Jurassic World.  Then the most expensive, most controversial, most complete T rex specimen ever found stands in all its glory in the Field Museum in Chicago.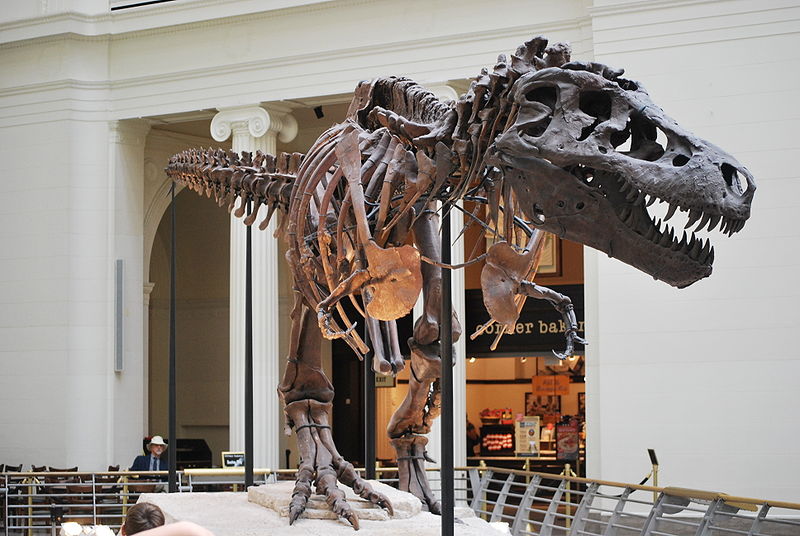 Her name is Sue, named after the lady who discovered her in southern Dakota.  More about T rex's and Sue here.  T rex is a bipedal theropod carnivore from the Cretaceous Period, arriving quite late in the Mesozoic and going extinct around 68 to 66 million years ago.
Weirdest
Goodness me, weren't they ALL strange?  Huge, scaly, with long tails, dagger like teeth, living in a world long gone – a world of swamps and deserts with no humans, cars, WiFi or roads, nor doctors or hospitals, or fast food outlets.  Very weird.  Okay, that said, we still love their weirdness, and without a doubt some were weirder than others.  I know that this is very subjective, but I think the weirdest of them all was Kosmoceratops  which means ornate.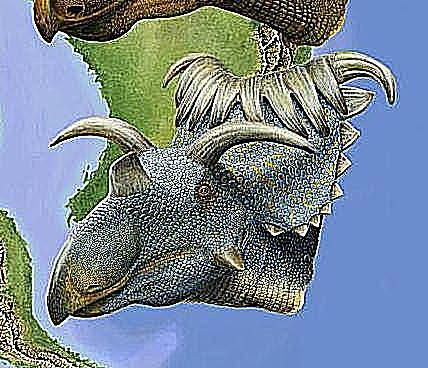 But it is perhaps a little cosmic in its appearance.  It had a frilly hair do, so to speak, along with typical ceratopsian horns.  The creature evolved in the late Cretaceous on an island in Laramidia, which is now preserved as part of North America.   All quite cosmic really.
First Ever
This one is about the first ever found.  William Buckland, an English minister and geologist, found the first dinosaur back in 1824 in Oxfordshire, England.  He called it Megalosaurus and its remains are now housed in the Oxford University Museum of Natural History.  No one knew much about dinosaurs then, so everyone had a go at trying to imagine what this strange beast looked like, and some of those original ideas can still be seen at Crystal Palace in London.
The second dinosaur ever officially found was by Gideon Mantel, also in England, in 1820.  Mantel found more complete fossils, the most complete now housed in the Natural History Museum, London.  The first guy to come up with the name 'Dinosaur' was Sir Richard Owen, a famous English naturalist who was a brilliant scholar and an academic bully.  He did give us the Natural History Museum in London for which we are eternally grateful.  The first T Rex ever found was by Barnum Brown back in1902, and the first discoveries of some of the most famous dinosaurs ever were made by Othniel Charles Marsh and Edward Drinker Cope during the Bone Wars.
Smallest Brain
Stegosaurus is the winner here.  Its brain was only the size of a walnut, which isn't exactly a great deal of computing power for surviving in the Mesozoic.  But it seemed to have worked well enough as Stegosaurus was around for 5 million years.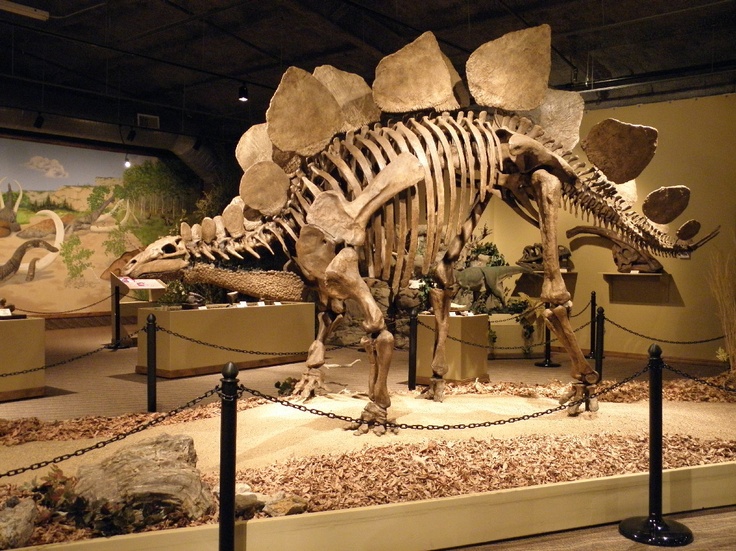 The myth that it had a second brain in its backside to assist is just that – a myth that has been around for a hundred years – a fun idea but one that now needs to go extinct.  Mind you there is a great poem about dinosaur's second brains which I cannot help but steer you to, but keep in mind that it was written many years ago and is not scientifically accurate. Read the poem here.