Robert Broom 1866 to 1951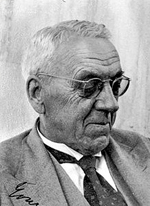 Those Scotsmen were an intrepid bunch, travelling to all corners of the world back in the day.  South Africa was not without its fair share of Scots, one of whom was Robert Broom.  It must have been a site seeing our Doctor Broom striding the hills of the Karoo in his dark suit and conversing with the locals in his broad Glaswegian burr.  Broom qualified as a doctor in 1895 with a specialisation in midwifery but the study of old bones was far more his thing, and so from 1903 to 1910 was professor of zoology and geology at Victoria College in Stellenbosch.  However that position came to an end when he promoted the theory of evolution, which didn't go down well with his superiors in Stellenbosch.  He then practiced as a medical doctor in the Karoo but never lost his interest in fossil hunting and evolutionary studies.  He became an expert on Karoo reptiles and in recognition of his work was made a Fellow of the Royal Society.
This interest was further boosted when Raymond Dart discovered the Taung Child, an infant Australopithecus africanus.  Dart organised a position for Broom at the Transvaal Museum as Assistant in Palaeontology which allowed him to devote his attention full time to his studies.  Over the next few years he and his colleague John T Robinson found some amazing remains, which included six hominins in Sterkfontein caves, which they named Plesianthropus transvaalensis, popularly called Mrs. Ples, a name which has since been revised to Australopithecus africanus when it was realised that the skull was that of an adult Australopithecus.
He also made discoveries at Kromdraai and Swartkrans and in 1937 his most famous discovery of Paranthropus robustus which supported Dart's theories concerning the Taung species.   Broom spent the remainder of his career exploring these sites and interpreting the remains and the environment in which they had been deposited.  He worked up to the very end of his life, writing articles and books on his findings, and just before his death on completion of one of his publications said to his nephew, "Now that's finished … and so am I."
He died in Pretoria in 1951 and is commemorated by a plaque in Sterkfontein Caves.  A giant of South African and indeed world Palaeontology.