---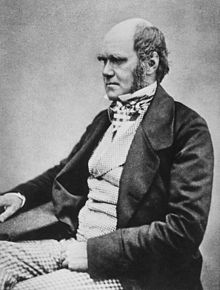 Now, our Mr Darwin is perhaps the most famous man in science – ever.  Question is, why?  Well, in 1859 he published his book On the Origin of Species which dropped a bombshell on the populace at large and changed the way in which we viewed the world.  Some people still haven't recovered from that bombshell.  But let us not get ahead of ourselves.  Darwin was born on 12 February 1809 in Shrewsbury, Shropshire, England and died in Kent 73 years later.  When he died the world was a different place.
Darwin's genius lay in his realisation that all species of life descended from a common ancestor – that the pattern of evolution was due to a process which he named natural selection.  The struggle for existence drove the evolutionary process, much like artificial selection is used by animal breeders to improve certain characteristics of an animal or plant.
When the book was published many people were outraged by his theories – most of all the Church – but by the 1870s his fellow scientists had bought into his theory, as had much of the general public.  His theory stands to this day and is the Grand Unifying Theory of the life sciences – the lens through which all current work is carried out.
So how did Darwin arrive at his grand theory?  Well, he was sent off to study medicine at the University of Edinburgh but he spent more time studying marine invertebrates and geology than he did medicine.  His father then decided that he should join the clergy and so he was moved to Cambridge to study a Bachelor of Arts degree as the first step towards this goal.  He spent a great deal of his time collecting beetles and befriending some of the academics but still managed to pass his BA exams with flying colours.
This work and his publications got him a post on HMS Beagle – a five year voyage that changed his life and possibly the lives of the rest of us too.  I have to admire Mr Darwin- it would have been easy not to have gone on that grand journey – five years is a long time to be away from home and the academic world – anything could happen when you are gone, and anything could happen on the voyage too.  Shipwreck was not uncommon in those days and a life on board ship was not an easy one.  However thanks to the voyage of the Beagle, Darwin's reputation was made for life.
Fortunately his early studies had primed him to observe and make careful notes of all he saw, not only of biology but geology too.  He had with him a copy of Charles Lyell's book (one of the eminent geologist of the time) Principals of Geology which proved invaluable on the voyage and got Darwin thinking along geological lines.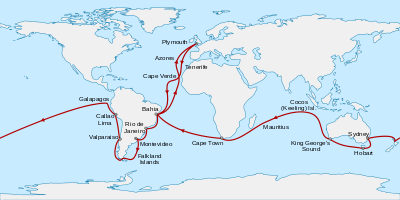 The big question for Darwin was why were animals and fossils located only in certain areas, and not uniformly spread around the globe.  That question, and his subsequent attempts to answer it, forced him to arrive at an answer, which he published in his now famous book, On the Origin of Species.  He was nearly beaten to the post by Alfred Russel Wallace who had independently come up with the same theory based on his studies in the Far East, and it was only when Wallace wrote to him explaining his new theory that Darwin felt compelled to publish.
It has been said that Darwin was one of the most influential figures in human history.   He is buried in Westminster Abbey in London, along with kings, queens, soldiers and statesmen.  Influential indeed and still revered in scientific circles for his contribution to biology and the natural sciences.