Barnum Brown (February 12, 1873 – February 5, 1963)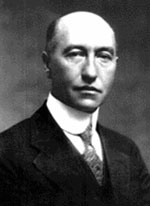 Mr Bones, as he was affectionately knowns, was an American palaeontologist who is famous for discovering the first remains of Tyrannosaurs Rex – that most iconic of dinosaurs – a discovery that probably cemented his career and made him one of the most famous fossil hunters of his time.
As usual, sponsorship was required for bone hunting expeditions and Brown was sponsored by the American Museum of Natural History (AMNH).  He traversed the country bargaining and buying up fossils wherever he went, along with anything else he thought might have scientific value.  At times he just put the word out and paid money to private bone hunters to have fossils shipped to him at the AMNH.
He worked for several years in Wyoming for the AMNH, and then in the late 1890s he led an expedition to the Hell Creek Formation in Montana.  It was here in 1902 where he made the discovery of his life, Tyrannosaurus rex.  The Hell Creek formation also yielded piles of other fossils, and dynamite was used to remove the tonnes of rock that surrounded the bones.  These fossils were then hauled back to town by horse drawn carts and human labour.  Unfortunately back then no one bothered to examine the rocks in which the animals were discovered – thereby losing immense amounts of information on the environment in which the animals lived and died.
Dawn glows along the shore of a lagoon near the sea three millions of years ago in Montana. The landscape is of low relief; sycamores and ginkgo trees mingle with figs, palms and bananas. There are few twittering birds in the tree-tops and no herds of grazing animals to greet the early sun. A huge herbivorous dinosaur Trachodon, coming on shore for some favorite food has been seized and partly eaten by a giant Tyrannosaurus. Whilst this monster is ravenously consuming the carcass another Tyrannosaurus draws near determined to dispute the prey. The stooping animal hesitates, partly rises and prepares to spring on its opponent. With colossal bodies poised on massive hind legs and steadied by long tails, ponderous heads armed with sharp dagger-like teeth three to five inches long, front limbs exceedingly small but set for a powerful clutch, they are the very embodiment of dynamic animal force. – Barnum Brown, 1915
After spending almost ten years in Montana, he went to Canada to prospect for fossils in the Red Deer River Valley.  In 1910 his team found a number of hind feet of a group of Albertosaurs in Dry Island Buffalo Jump Provincial Park.  These fossils lay for years in the AMNH.  Amazingly Dr Phil Currie of the Royal Tyrrell Museum of Palaeontology found the site of the discovery from old photographs and reopened the site for excavation in 1998.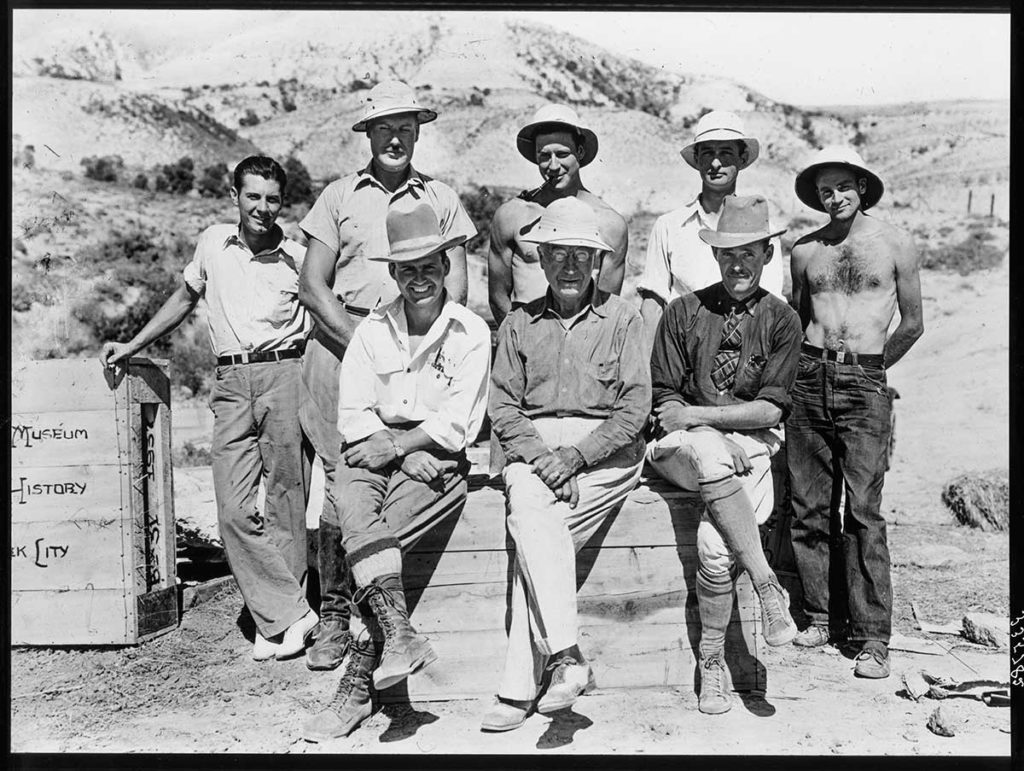 He then went on to Burma and found a jaw bone with three teeth, which were later identified as a new species of primate and the earliest known anthropoid.  He named the holotype Amphipithecus.  Mongaungensis.  There is still ongoing debate as to its status as a primate.
He was a colourful character who lived at the end of a colourful age.  During the First World War he even carried out a bit of spying and wasn't averse to a bit of industrial espionage for some of the large oil companies.
Brown was buried in Oxford, New York, the hometown of his first wife.