Plesiosaur Elasmosaurus
Plesiosaurs, meaning 'close to' and 'lizards' or better still "approaching the sauria" to separate them from the more lowly, fish-like Ichthyosaurs are an order of marine reptiles that lived in the oceans for millions years. They first appeared in the late Triassic about 205 million years ago and became very common during the Jurassic and dying out at the Cretaceous Palaeogene extinction event at the end of the Cretaceous. They were found in all the world's oceans during the Mesozoic.
They were some of the first fossil reptiles found and were initially properly described at the beginning of the nineteenth century. This first plesiosaurus was named Plesiosaurus back in 1821. Since those early days more than a 100 species have been discovered.
Plesiosaurs had broad flat bodies and short tails, and their arms and legs evolved into powerful flippers to drive them through the Mesozoic oceans. It is thought that they made a flying movement through the water but whether their flippers moved in unison or alternating downstrokes between front and rear flippers is unknown. They breathed air, bore live young and may have been warm blooded.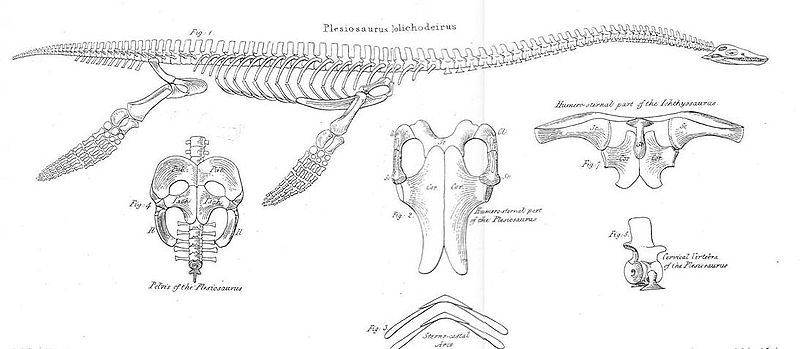 Conybeare's Elasmosaurus
There are two types of plesiosaurs. One type had long necks and small heads and were slow swimmers, living off small sea animals. The other type had short necks and large heads and were at the top of the food chain, able to swim at speed and hunt large prey. These are called plesiosauromorph and pliosauromorph respectively. The name 'plesiosaur' is properly used to Plesiosauria as a whole but is loosely used to refer to the long necked forms.
The first ever reference to a plesiosaur was by a certain Richard Verstegen of Antwerp in 1605. A Welshman Edward Lhuyd then described one in1699. In 1719 William Stukely described a skeleton of a plesiosaur which was presented to him by the great grandfather of Charles Darwin. It was displayed to the locals as the remains of a sinner who had drowned in the Great Flood. This specimen is no longer displayed for the pious parishioners but rather for the visitors to the Natural History Museum in London.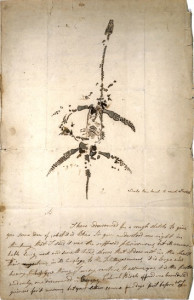 Mary Anning's detailed notes and drawings of a Plesiosaur find.
In 1823 Thomas Clark reported an almost complete skull which is now in the collection of the British Geological Survey. However the greatest plesiosaur discoverer of them all was Mary Anning, of 'she sells sea shells on the sea shore' fame. In the same year she discovered an almost complete skeleton at Lyme Regis in Dorset, England. This is known as the Jurassic Coast and was to yield, as it still does to this day, magnificent ammonite and plesiosaur fossils. This fossil was presented to the Geological Society of London on the 24th of February 1824 and it was at the same meeting that for the first time a dinosaur was named – Megalosaurus. So guys and girls, we are in good company.
For the rest of the first half of that century literally hundreds of new species were named, many of them from Lyme Regis.
In the second half of the nineteenth century discoveries were made outside of England, including Germany and America. The Western Interior Seaway which has been a treasure trove of fossils yielded up plesiosaur remains, including Elasmosaurus that was instrumental in sparking off the Bone Wars between Othniel Charles Marsh and Edward Drinker Cope. Cope mistakenly put the animals head on its tail which led to trouble. Read more about the Bone Wars here.
Around 1900 most of the work on plesiosaurus was being done by Professor Samuel Wendell Williston who was a former student of Marsh. He published his Water Reptiles of the Past and Present in 1914 which for many years was the go-to text on plesiosaurs. In 2013 a more modern text book was published by Olivier Rieppel. Not a bad run for Williston – a book that stood the test of time for nearly a 100 years.
Many more discoveries of Plesiosaurs have been made in the last 25 years, and in places such as New Zealand, Argentina, Norway, China, Antarctica and Morocco. South Africa has its own version too from the Algoa Basin near Port Elizabeth.   England and Germany are still producing important finds too.